As we come to end of 2018 with weather adventures, we had WAHS Chorus caroling through our hallways, Leadership Club utilizing fundraising monies to purchase and deliver new recess equipment to each classroom color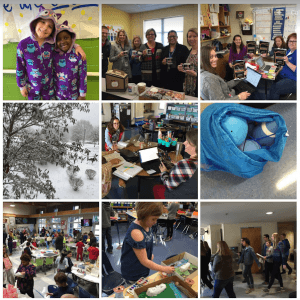 coded by grade level, our front office staff mugged by Morgan 99.7 CYK with Duck Donuts & Coffee, our students showing their school spirit on PJ day, our teachers PLC Book study discussions on Passionate Readers & Culturally Responsive Teaching & the Brain, our 3rd graders showcased entrepreneurship with their Annual Market that derived from a Economics Project and our 5th graders sharpening their critical thinking skills with Math/Science Camp.
Our students, teachers and staff continue to amaze me with their vibrant creative ideas and talents.  Crozet Elementary will continue to focus on learning and creating a school community ethos that inspires wonder, incites curiosity and motivate all learners to excel.  Looking forward to  the new year 2019!