I love the beginning weeks of school!  Students sporting their new gear, confident smiles, readiness to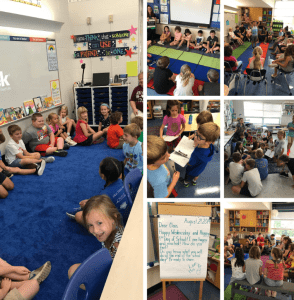 learn and making new friends or re-establishing ties with friends they haven't seen over the summer.  On the other hand, families and students are anxious about their new class level, new journey with academics/learning, new teachers and classmates.  My hope and dream is that our families continue to believe in us and sustain a positive, collaborative partnership with our teachers and school staff.
The beginning weeks of school is the optimal time for our students and teachers to build relationships and to get back into the groove of learning.  The first six weeks of school is a distinct period of time of many introductions to set students up for a year of engaged and productive learning with the Responsive Classroom approach – using positive teacher language to establish high academic and behavioral expectations, offering interest-based academics and teaching the classroom and academic routines that enable our students to thrive in collaborative learning community.  Also during this time of getting to know our students, teachers are administering assessments in the content areas to see where they are and what they know.
To recap – August and September are the beginning months of school to establish a collaborative, safe  school environment for learning.  It's only been 4 weeks of school.  September launches community fun of events – Grandparents Lunch Day, Crozet CARES Kick Off Week, International Dot Day (Make A Mark) Celebrating Creativity, PTO Kindergarten Potluck and our Literacy Engagement Kick Off with a school-wide morning meeting….Whew!   We are on a ROLL of a new school year of Crozet Rising!